Spotted: Mini Bennett From Coach

If you're in a quest of searching the bag under 3 million that you'll own forever, then this might be the answer.
Undoubtedly, COACH is global accessories giant. This USA's favorite brand continues to innovate each season, turning out new colors, styles and designs. But one design caught my eyes: the Mini Bennett. Bennett collection comes in 3 sizes: large, mini and the latest addition mini crossbody. Between those three options, mini bennett is the most famous one. We had sold hundreds of this style since its debut at our store back on 2017. Definitely a Best Seller! Scroll down to know why 10/10 would recommend you to buy this bag.
PLENTY OF OPTIONS
The crossgrain leather for your formal occasions, the signature canvas for your weekend brunch or debossed leather pattern for travelling. So many colors and materials you can choose. Even the seasonal patterns, like spring's floral or fall's gingham, are too cute to pass!
THE BEST SILHOUETTE
The 'satchel' silhouette is the best one for work. It's big enough to fit everything you need without ever feeling bulky. There's a small zipper compartment on the inside that you can keep all your small items in, so they don't get lost in the shuffle. Opt for the crossgrain leather, so it's clean and minimal enough to come out after work with you.
HANDY WITH A LONG STRAP
Mini Bennett is a chic, structured bag with top handle and detachable long strap. That adds another 2 reasons why you'll love this bag. Imagine an LV's Speedy 25 bag with bandouliere, but not include the four-digit-price-tag. Jackpot!
Topping of this article, insider tips: if someday you ever get bored of this Best Seller bag, you can always consign it to us, even the preloved version of Mini Bennett sold out really fast.
Check out our collection of Mini Bennett here, and shop the bag for yourself.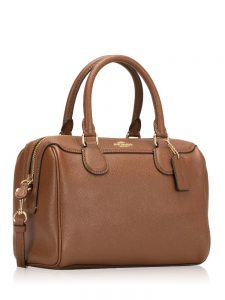 COACH Crossgrain Mini Bennett in Saddle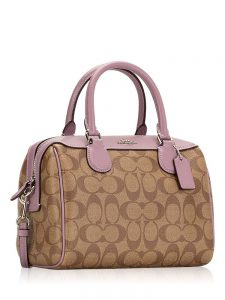 COACH Signature Mini Bennett in Khaki Jasmine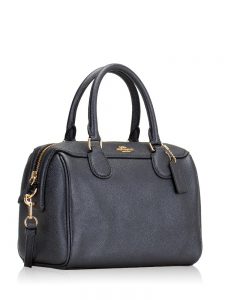 COACH Metallic Crossgrain Mini Bennett in Denim
See you on another spot, xoxo.