All You Need to Know Before Vintage Hunting

"For me, nothing is old. If a dress is beautiful, I think it can live forever" – Alessandro Michele
I couldn't be more agree with above statement. Let's extend the lifespan of fashion items. Nowadays, wearing vintage is more than a trend, though — it's a lifestyle. Chanel's Tweed blazer, Dior's Saddle bag or Cartier's Tank watch. Wearing preloved clothes or bag is a movement, a way of appreciating pieces and styles from bygone eras. Even a study said that most of European women are not comfortable of wearing new and shiny bags, they would rather to wear worn and used bags instead.
The interesting part of shopping vintage is the rush of finding that unique piece you know no one else has. I recently scored a Chanel vintage camera bag in a yummy brown quilted lambskin, and I'm pretty sure that I am the only one who owned it in Jakarta *crossing my finger, lol* And that feeling is unbeatable, compare to the moment you step out of a boutique after purchasing that newest collection in store, but you are not the only person!
I will share my tips to shop vintage bags and how to style them, let's dive in.
FIND YOUR TREASURE CHEST
Treasure hunting for vintage bags could be tricky. Make sure you start with a reputable source. There are a lot of places offering luxury bags, both in-store and online. Some of these are more trustworthy than others. My #1 tip is: Only purchase from a source you know you can trust, who takes authenticity as seriously as you.
TRUST YOUR GUT
Details are important matter. The only way to distinguish them from the real deal is to take them in your hands and feel the quality. Does the leather feel cheap? Is the bag oddly light? If so, don't buy! Cause the super fakes are so many out there, meaning they have deconstructed an actual bag and copied it stitch for stitch.
FONT IS EVERYTHING
Most luxury brands have serial numbers or other internal markers of authenticity. Pay close attention to the font. If it's different from how the brand name is normally displayed, please beware. My other tip is by looking at photos of the original items, you can get a sense of how the detail is supposed to look.
DETAILS DETAILS
Check the small details. The stitching should be straight, the engraving on the hardware should be smooth, and the hardware itself should not look cheap or plastic-y. Even the zippers can often be a dead giveaway. This is a small detail, but it's one fakes often get wrong.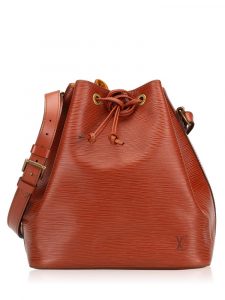 LOUIS VUITTON Epi Petit Noe Chestnut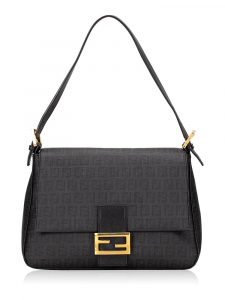 FENDI Zucchino Spalmati Mamma Baguette Nero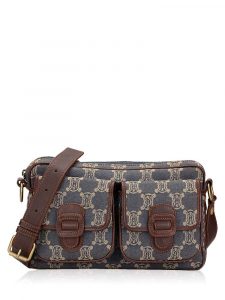 CELINE Macadam Denim Crossbody Blue
If everything looks good, it's time to adopt that baby to your home! Next problem? How to style it: my suggestion is to dress fairly minimal, then put a vintage bag to complete the outfit. Add touch of statement piece, like gold necklace or belt for an instant polish. Voila! You are ready to go.
Shop conveniently at Banananina' Preloved Collections here, cause like you, authenticity is our number one priority. You might find some rarely found vintage bags with price-cut deals.