5 Best Dressed: Red Carpet Moment of The Oscars 2017
Salah satu ajang penghargaan terbesar di dunia perfilman internasional, yaitu Oscars 2017 baru saja dihelatkan di Dolby Theatre Hollywood, Minggu malam kemarin. Acara yang didedikasikan untuk memberikan apresiasi kepada para seniman film ini tentunya dihadiri oleh banyak orang-orang luar biasa dari berbagai bidang di dunia film.
Selain malam puncak penyerahan piala kepada para pemenang masing-masing kategori, salah satu momen yang paling ditunggu-tunggu tentu saja adalah the red carpet moment. Kesempatan ini dimanfaatkan oleh berbagai perancang busana ternama untuk memamerkan hasil karyanya yang digunakan oleh para tamu undangan, khususnya para bintang film, dan berlomba-lomba masuk ke dalam jajaran pakaian terbaik pada malam tersebut.
No more chit-chat, here are our version of the 5 best-dressed women of the night!
Emma Roberts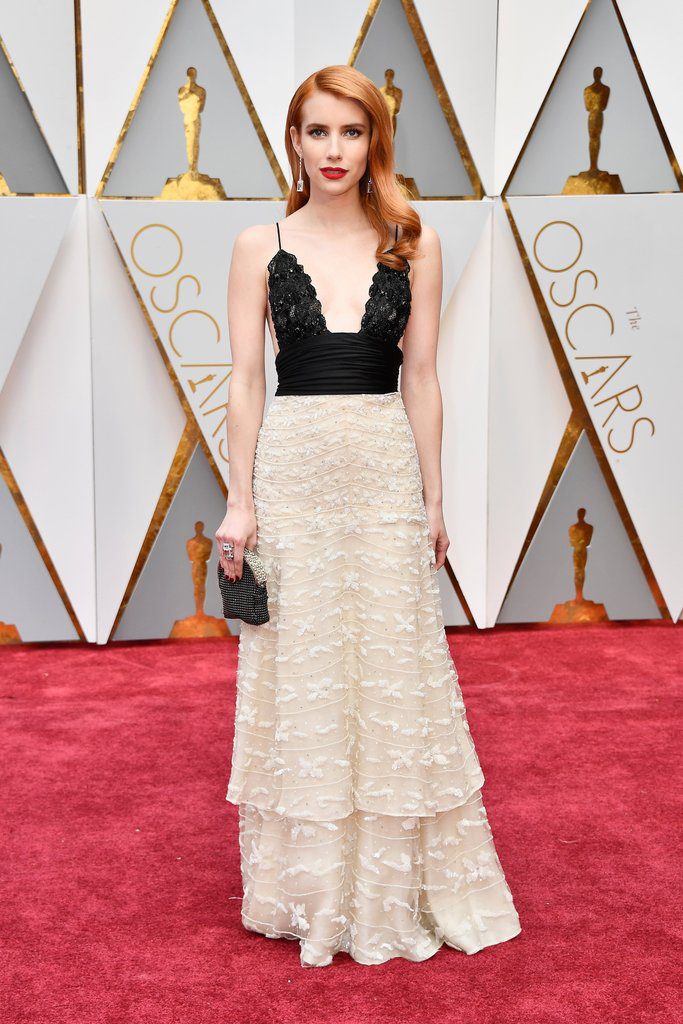 Looking high fashion doesn't always include new things as Emma Roberts just proved how stunning she was with a vintage gown from Armani Prive's 2005 collection. Mini di bagian atas, dan panjang di bagian bawah, Emma berhasil merepresentasikan sebuah gaya yang sexy, tapi tetap elegan dengan gaun ini. Dipadukan dengan wavy hair-nya, kesan retro pun terlihat semakin kuat.
Felicity Jones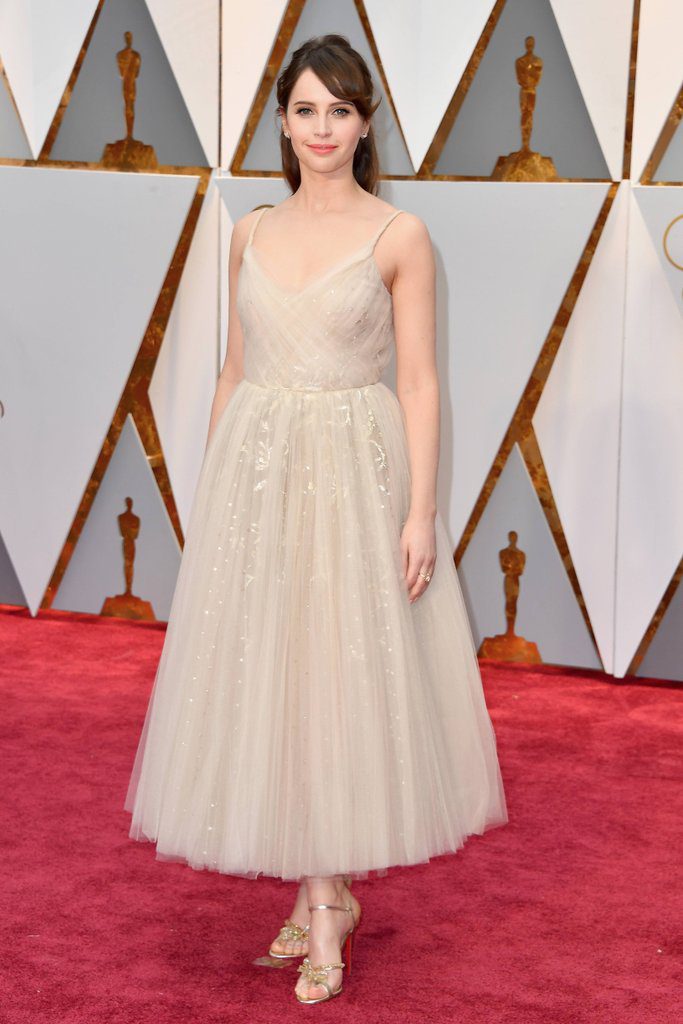 Looks simple, but so hypnotizing. Mengenakan mini dress rancangan Dior, Felicity Jones terlihat seperti seorang balerina yang cantik dan anggun. She kept it balanced dengan mengenakan glaring heels, aksesoris cincin dan anting yang tidak terlalu mencolok.
Leslie Mann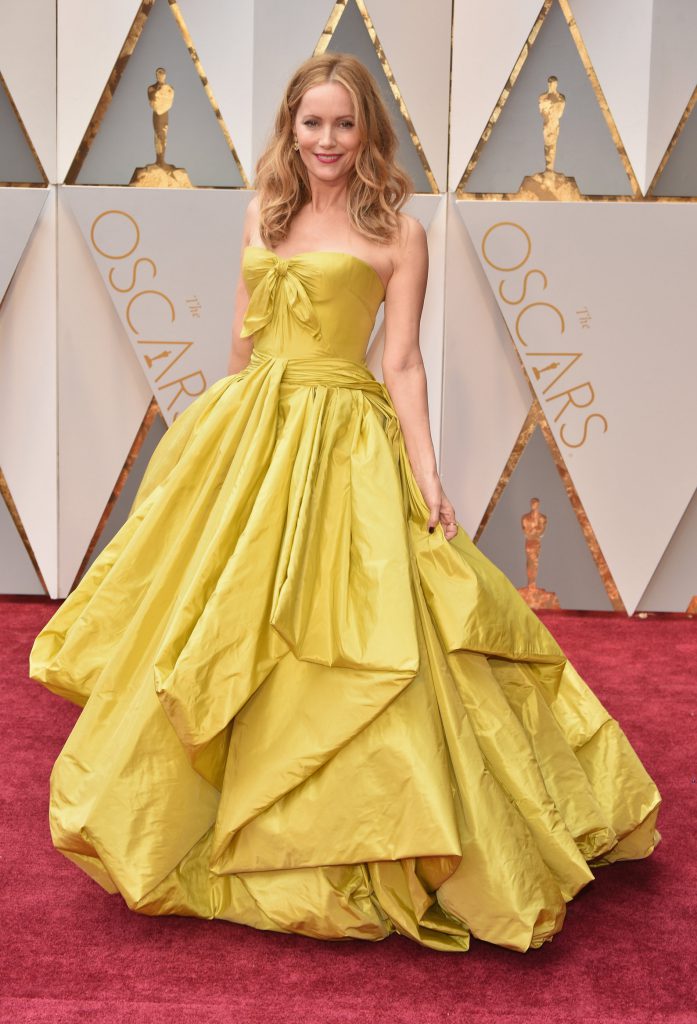 Leslie Mann berhasil mencuri banyak perhatian dengan big dress berwarna kuning cerah karya Zac Posen. We have to admit that it was a risky choice to wear this kind of dress, but she nailed it very perfectly. Fluffy skirt dengan pita di bagian depan gaun ini, sukses membuat Leslie Mann terlihat seperti Princess Belle in real life. Beware, Emma Watson!
Nicole Kidman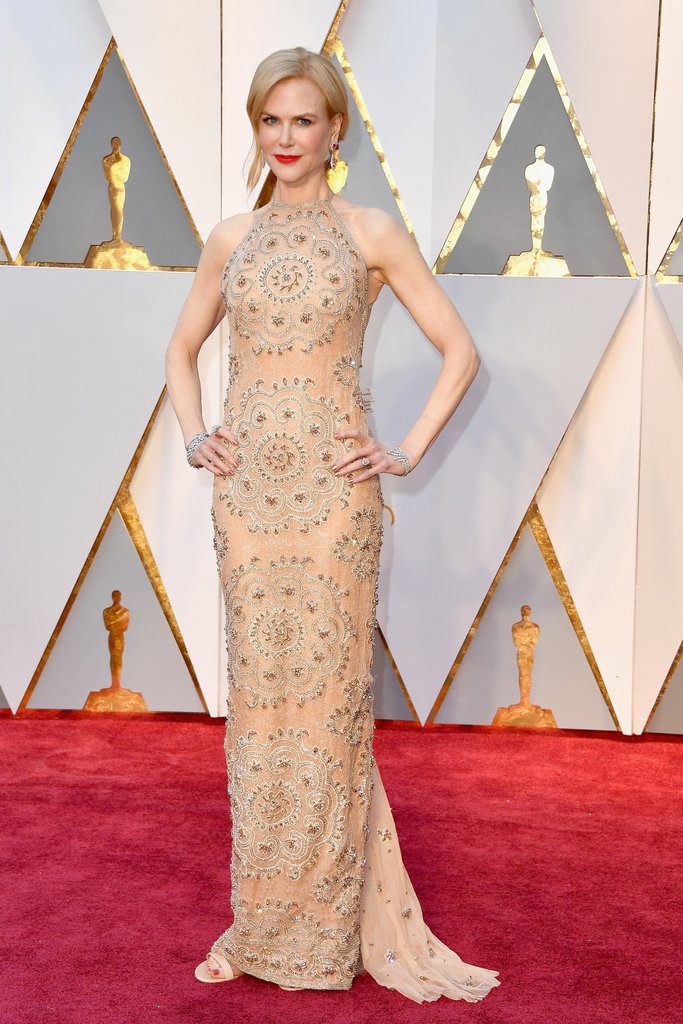 Di usianya yang sudah menginjak 49 tahun, Nicole Kidman masih terlihat cantik dan awet muda. Dalam balutan gaun Armani Prive, pemeran Sue Brierley dalam film Lion ini memamerkan bentuk tubuhnya yang masih langsing dan kencang. Warna krem yang tidak terlalu mencolok menjadi sangat memikat dengan hiasan gleaming beads yang disusun menjadi bentuk menyerupai bunga. Ditambah dengan sentuhan warna merah pada bibir, she looked very stunning as she always was.
Emma Stone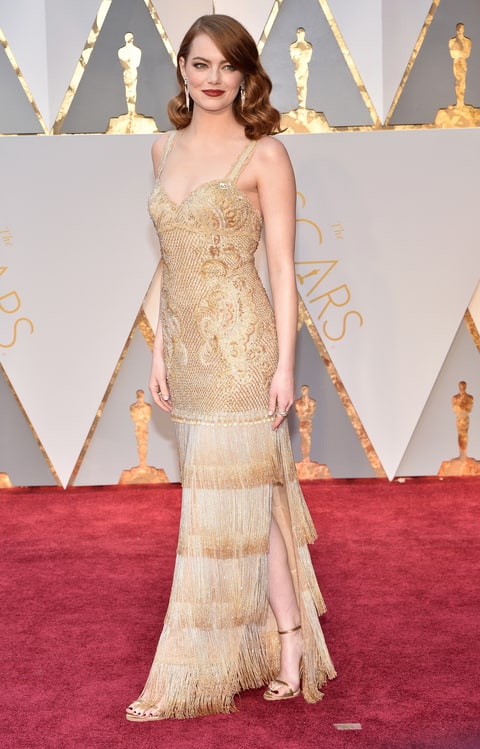 Lagi-lagi Emma Stone menjadi pusat perhatian pada malam penghargaan Oscars 2017. Tidak hanya karena memenangkan kategori Best Actress, tapi the whole look she presented at the red carpet was so gorgeous there is no words that are capable enough to describe it. Dominan warna gold pada gaun karya Givenchy dan heels yang dikenakannya membawa kesan mewah, sedangkan style rambut khas tahun 1940-an dipadukan dengan a swipe of maroon lipstick on the lips are too mesmerizing.
Honestly, picking only 5 best-dressed was too hard, but we did it! Menurutmu, siapa selebriti yang memiliki tampilan terbaik pada malam Oscars 2017 kemarin?